ADK Emotions to Join Panel at 2019 Anime Expo
-Introduction to New Anime "BEM" at America's Biggest Anime Event-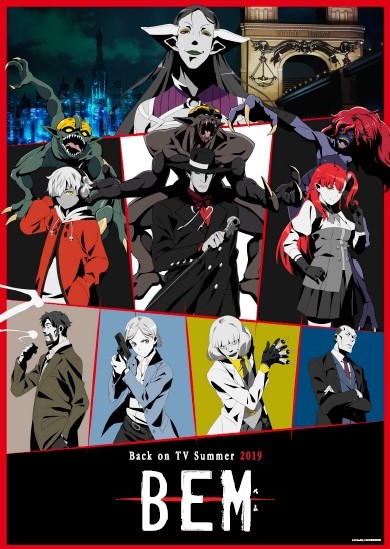 (C)ADK EM/BEM COMMITTEE
ADK Emotions Inc. (head office: Minato Ward, Tokyo; Representative Director: Takahiro Noda; "ADK EM" below) will participate in a panel at the 2019 Anime Expo, the largest anime event in America. It will be held at the Los Angeles Convention Center from Thursday July 4 to Sunday, July 7, 2018.
The panel will be ADK EM's first appearance at the Anime Expo. ADK EM will set up a Twitter account and an English website for audiences outside Japan as the company launches a serious push to share information among users in Japan and beyond.
At the panel, ADK EM will also introduce BEM, a new anime to mark 50 years since the broadcast of "Humanoid Monster Bem(1968)". The anime will begin airing in America the same month as the Anime Expo. We will welcome illustrator Range Murata, who was in charge of original drawings for BEM characters, as a guest. He will perform some live drawing and ADK EM will also screen a movie providing a behind-the-scenes look at BEM's production.
【About the Anime Expo】
One of the biggest anime events in the world, it has been held every year in America since 1992. Content business insiders from across the U.S. and other corners of the globe congregate here under one roof. The four-day convention in early July attracts attendees numbering over 350,000 (as of 2018).
【The ADK EM Panel at the 2019 Anime Expo】
Date: Friday, July 5 (Day 2 of the 2019 Anime Expo)
Time: 10:00 a.m. – 11:00 a.m.
Place: Los Angeles Convention Center
Guest: character designer Range Murata
Title: "BEM – The Essentials of Creating Anime Characters"
【About ADK Emotions Inc.】
A company focused on the content business, ADK Emotions is a member of the ADK Group, which became a pure holding company in January 2019. Engaged in planning and production for the rights management business, ADK Emotions takes to the next level the distinctiveness in the content business that gives the ADK Group an advantage.
"BEM" Official Site:newbem.jp
"BEM" Official Twitter Account:@newbem2019
"Humanoid Monster Bem" 50th Anniversary Site:youkainingen-bem.com